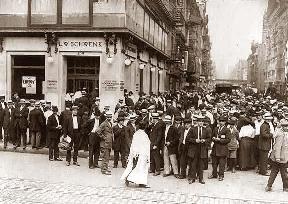 There is a lull in negative news from Europe. However, it is short lived.
There are four facts that are very important to understand:
Most European banks are insolvent
The ECB is massively monetizing to keep the system operational
Germany is doing a back-door bailout of peripheral countries by racking up huge IOUs issued by the ECB
The credit risk of the ECB has substantially increased
Let's go through these one by one.
1. Zombie Banks
We all know that the so-called "stress tests" are not really testing a stressed scenario. The latest round of European stress tests showed a short-fall of €115 billion. [Details ] It is safe to assume that there is a much larger deficit.
It is instructive to look at the indirect evidence.
European banks don't want to do business with each other because they don't trust each other's solvency
ECB has had to take extraordinary measures which include three year loans at very cheap rates [Details]
ECB has had to allow European banks to pledge lower quality collateral (because the higher quality collateral is running out – or has run out) [Details]
Investors are wary of these banks and are shifting business to non-EZ banks they perceive to be safer.
Policy makers have imposed and extended short-sale bans on Eurozone banks [Details]
2. Euros, Euros, Everywhere
The difference between spin and reality is stark. There has been so much talk about the ECB being stubborn and not willing to turn on the spigot. The reality is quite different.
The ECB balance sheet has exploded to €2.7 trillion which is approaching one quarter of Eurozone GDP. [Details] This is a bigger expansion than the Federal Reserve undertook in the depth of the U.S. financial crisis. [Fed balance sheet.]
The ECB is also effectively monetizing by making subsidized, three-year, 1% loans to Eurozone banks. This is called Long-Term Refinancing Operations or LTRO. It is simple for the banks to take these loans and then invest in many other assets that are yielding 4% or more. The spread is a direct subsidy to these banks. But many banks are not doing this. They are taking the loan and depositing the proceeds at the ECB (at a rate of 25bps) to "reduce" their risk. However, there are recent reports that they are now using some of the new funds to buy higher yielding bonds.
As mentioned earlier, accepting lower quality collateral is another way of monetizing.
The Federal Reserve is also involved by making it easier for European banks to get access to dollar funding. [Details (subscription may be required)]
3. Backdoor German Sponsored Bailout
A number of months ago I highlighted a story in Frankfurter Allgemeine about the TARGET2 system (which is like the Fedwire system in the U.S., TARGET stands for Trans-European Automated Real-time Gross settlement Express Transfer). Here is a good introduction to TARGET2. See pp. 35-40.
Here is how it works. Suppose a Greek national wants to buy a BMW at €30,000. In usual circumstances, the car buyer goes to his local bank and borrows €30,000 and these euros are transferred to BMW's German bank. Indeed, the Greek bank would usually borrow the €30,000 from the German bank and deposit the borrowed money into BMW's German bank account.
However, this doesn't work anymore. There is no way that German bank will loan money to the Greek bank for this transaction because the Greek bank is known to be insolvent and Greece's national central bank is not in much better shape.
Enter TARGET2 and the ECB. Let's follow the money.
First the loan:
Greek BMW buyer borrows money from local Greek bank using the car as collateral (or perhaps even Greek government bond as collateral!).
Greek bank borrows from Greek national central bank (NCB).
Greek national central bank borrows from the ECB.
Second, let's follow this through to Germany. (The first three steps mirror the borrowing above.)
Greek BMW buyer deposits (borrowed) euros into local Greek bank to pay for car.
Local bank deposits the funds with Greek NCB.
Greek NCB deposits with the ECB.
ECB 'deposits' via TARGET2 the amount at Bundesbank (that is, the Bundesbank gets a 'credit' from ECB);
Bundesbank sells some assets (high quality assets like German government bonds) for cash;
Bundesbank deposits money with BMW's local German bank.
For another description of the transactions, see Has the Bundesbank reached its limit?"
Effectively, the Bundesbank is swapping high quality assets (like Bunds) for credits with the ECB. The Bundesbank has racked up a massive amount of ECB credits. Consider the Deutsche Bundesbank's Monthly Report, Section XI External Sector, Table 9 External Position of the Bundesbank in the European Monetary Union, column 7 Claims within the Eurosystem. (I am being specific here because the English version is published two months after the German version).
2007 €84 billion
2008 €129 billion
2009 €190 billion
2010 €338 billion
2011 €476 billion (December 2011 data in January 2012 bulletin — in German)
Note 1. The German commitment to the European Financial Stability Facility (EFSF) is only €119 billion.
Note 2. The German commitment to the new €500 billion European Stability Mechanism (ESM) is €190 billion.
The TARGET2 balance alone is the size of the entire €500 billion ESM – and it is all from one country. It is a massive back door bailout.
In my opinion, the Bundesbank's press release in February 2011 is not helpful:
The size and distribution of the TARGET2 balances across the Eurosystem central banks are, however, irrelevant to their risk exposure from the provision of funds by the Eurosystem: TARGET2 balances do not pose specific risks to individual central banks.
To decode, a country's TARGET2 credit is an ECB liability – not an individual central bank's liability. In my example with the BMW, the Bundesbank has a credit from the ECB – not the Greek National Central Bank. There is no risk — if the Euro survives. But that is a big "if". The explosion in the TARGET2 balance is due to the large German trade surplus, German banks' unwillingness to lend to certain Eurozone banks, and a flight to quality – or run, whereby people from all over the Eurozone want to get their savings into banks in Germany.
4. Junk Collateral
The key question for the German public is: "Are you comfortable swapping high quality assets for ECB credits knowing that the ECB has been degrading the quality of the collateral that it accepts? "
Indeed, the Bundesbank is close to exhausting its high quality assets. What is next? The gold stock? Are Germans going to be OK selling gold for credits at the ECB? By the way, there is only €139 billion at the Bundesbank in gold and gold receivables. Given the current run rate, that buys about nine months. [From December 2010 to November 2011, the net Claims within the Eurosystem increased by €170 billion.]
It's just a matter of time. Collateral will get lower and lower quality. It's unsustainable.
The Run
Putting this altogether, it is no surprise that the Euro has been dropping. The surge in German TARGET2 balances is consistent with a run. The increased credit risk of the ECB is heightening the probability of a run. So all eyes are on the policy makers … and expectations of success on the political front are low.
Political Quagmire
Now that we have reflected on the (fourth) "historic" EU meeting, the cracks are fully in view. I estimate that it could take years to implement (if everyone agrees) – and Europe does not have years to work this out. Investors realize this and this just fuels the run on Europe.
Let's first decode what happened at the EU Council. Statement found here.
Fiscal Compact
The centerpiece of the agreement is a " fiscal compact". The essential items are:
Structural deficits limited to 0.5% of GDP
Cyclical deficits to 3% of GDP
Max 60% government debt to GDP
"automatic" sanctions
"ex ante" review of bond offerings
Commitment to "write in stone" these rules at country legislative and/or constitutional levels
What is new?
Not much. Items 1-3 simply restate what is already in the Financial and Stability Growth Pact of 1997. Importantly, very few countries have taken these rules seriously. Currently, 13 of 17 Eurozone members are offside – including Germany. Greece has been serially offside. Indeed, there is only one country, Estonia, that is running a fiscal surplus!
The automatic sanctions are new. In addition, they are not very automatic. A country is called offside. A plan is presented and then a second vote is taken with the European Council. Two votes. In addition, a 2/3 majority could override the sanctions. If there is a problem, you go to the European Court of Justice. Who knows how long it will take there. To me, this is not "automatic".
The approval of bond offerings before the fact, i.e. "ex ante", seems very similar to the "automatic" sanctions. I am not impressed.
Enforcement
The basic idea is that enforcement would come from the European Council –and eventually through the European Court of Justice. However, not all countries are on board. Indeed, the U.K. vetoed.
Hence, you have the dysfunctional situation of the ECJ enforcing rules on some countries in the EU but not others. It is a legal nightmare.
UK Veto
David Cameron has taken a lot of heat. However, his decision to veto, in my opinion, was a no brainer.
The financial services industry is crucially important to the U.K. economy. Agreeing to the EU proposal would have put this industry at great risk.
The EU is pushing a so-called Tobin Tax – or transactions tax. While no big deal for markets in Europe (they are relatively small), it would be devastating for London – the world's leading financial center. Even a small transaction tax would see investors choosing to trade in New York, Singapore or other markets that have no transactions tax. It would be crushing to the UK economy. I understand Cameron's veto.
Will the UK become isolated? Yes, but they are already isolated. It is really no big deal. The key for the UK is to protect their growth opportunities and you can't do that if you seriously wound your leading industry.
Set in Stone
Another hurdle to the agreement is to implement legislative and/or constitutional change in each EU country to recognize the balanced budgets. This is probably a good thing (i.e. fiscal discipline written into law – because it enables lawmakers to deflect blame when they vote against spending increases). However, it will not be so easy to implement.
There are two main problems: France and Germany. I don't think it will be easy for either country to approve this and they are the nexus of the EU!
In France, it is an issue of yielding sovereignty (effectively to Germany). This is enormously unpopular – and could be the election issue that brings down Sarkozy. Check out the statements from Marine Le Pen who would take France out of the Eurozone. [In French]
In Germany, the basic story is very similar. They need to amend their constitution. The German Federal Court decision in September made it very clear that any extra-sovereign control over budgets was unconstitutional. Hence, changing the German constitution is the only option. However, it is naïve to think this is easy. The rank and file in Germany is very nervous. They believe that this is a prelude to a " transfer union" – where the Germans are in a continual state of bailing out weaker EU members. Put bluntly, Germans are working to age 65 or 67 before retiring – but they are funding Greeks (and potentially other countries like France) that are retiring at 55. Not fair. Not popular. And naive to think that the Chancellor can wave her wand and make this happen.
In addition, I think the German public will be furious when they fully understand that they have almost single handedly been bailing out the periphery by selling their high quality assets for ECB credits. At some point, enough is enough.
Germany is the winner?
No.
It is true that Germany has done well with the Euro. They are the strongest economy in Europe. They have hugely benefited from a cheap Euro. Their trade surplus is 5.7% of GDP – which is even bigger than China's 5.2%.
However, we know there are no free lunches. Now, is the time to pay the price.
Germany is in an awful lose-lose-lose situation.
They are a loser if they have to single handedly continue to bailout the peripheral countries. Frankly, who else can afford to do it? The next three biggest countries in Europe – France, Italy, and Spain – certainly cannot contribute in a big way. The latter two are recipients! The UK is on the sidelines. But
Germany does not have unlimited resources. Remember they are offside already on the debt to GDP measure.
They are a loser if the ECB continues to monetize. This likely means future inflation which is simply a tax that especially hurts Germany – not just because it is wealth, but because of their history and the country's extreme aversion to inflation.
They are a loser if the Eurozone breaks up. A new Deutschemark or new Euro based on subset of strong countries, would soar in value. This would be devastating for the export sector (which is 46% of German GDP). In a previous blog, I speculated that German could lose half of its exports on a revaluation. While export revenue might remain the same (if the value of the currency doubled), it would be devastating for certain industries – and lead to severe unemployment – another thing that Germany has a strong aversion to.
Parallels to the U.S. experience
To really answer the question of whether Germany is better off under the Euro, let's explore a recent parallel example – the U.S.
The Federal Reserve maintained a policy of very low interest rates – on a real basis, negative interest rates, for an extended period under former Chairman Greenspan. The result of this policy was an economic boom largely driven by construction and housing. Consumers were refinancing their mortgages at lower rates and doing "mortgage equity withdrawals" (increasing their mortgages and using the extra money to spend). The U.S. is now paying the price for this structural dislocation. The U.S. is facing a 'lost decade'. Is the U.S. better today off as a result of the cheap interest rate policy? No.
Now to Europe. Countries like Greece, Italy and others were faced with the ability to borrow at very low (German) interest rates. They exploited this cheap financing – just like the U.S. construction industry did. Germany was booming with exports and running a massive trade surplus given the cheap exchange rate.
Now they realize that there is a price to pay. It is not the question of are they better off right now. You need to factor in the future costs.